Black gems for mysterious and passion woman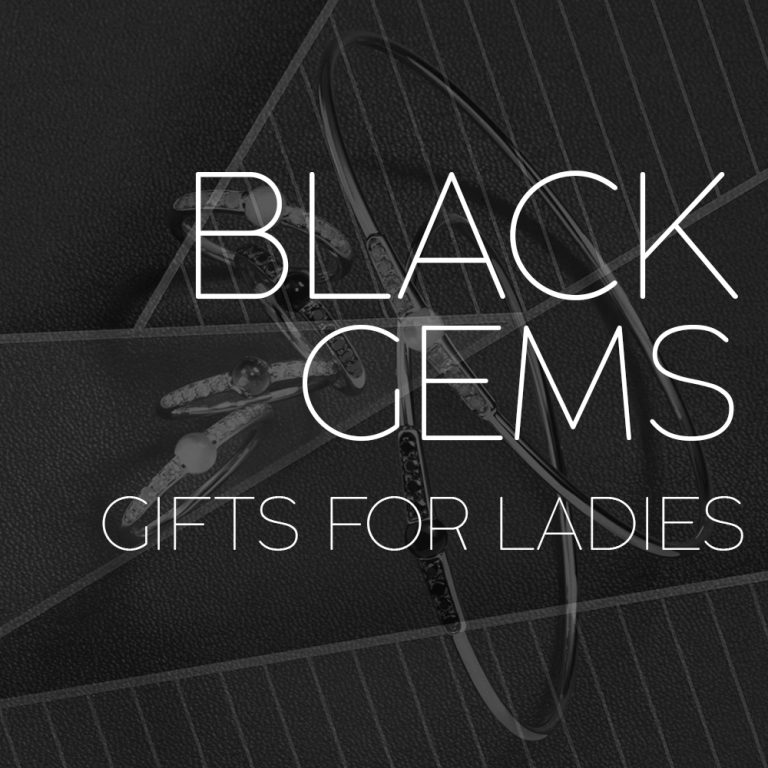 Secret and passion are like alphabet for the life of self-confident and purposeful ladies.  We have 15 tips of an amazing accessories for you.
ĎALŠIE TIPY: 
POMELLATO VICTORIA
The enchanting contrast created by rose gold and the semi-precious stone is reminiscent of the Victorian era, which dates back to the 19th century.
During Queen Victoria's 64-year tenure, the United Kingdom became a global empire. The Pomellato Victoria ring was made for the former British monarch, combining determination, passion, wisdom, visionary skills and passion.
POMELLATO NUDO
Life needs borders, the old truth says. But Pomellato Nudo deletes this view perfectly, pointing out that dreams can be turned into the fact that experiential life is much more valuable.
The Nudo ring in Obsidian winks with opaque mystery in maxi-size. Obsidian's nocturnal beauty rests atop a rose-gold shank and titanium cullet, surrounded by black diamonds on its band.
PASQUALE BRUNI SECRET GARDEN
When the god of love, Cupid, shot Venus' fingernail with an arrow, an onyx was formed. Well, at least that's what the legend says.
At the ring of Pasquale Bruni Secret Garden, the semi-precious stone onyx plays an important role – it completes its uniqueness, moves it to the center of attention, it handles perfectly with the present contrast, which points to inventiveness based on ordinary nature.
POMELLATO TANGO
Imagine yourself dancing tango. Passion and energy rain in all directions, before your eyes the scenery from more than two hundred years ago from Argentine slums appears to you. And you know what, dear ladies, let's turn your idea into reality.
Pomellato Tango is a uniquely built ring that will immediately discourage you with ideas and design.
POMELLATO SABBIA
Sabbia is a sand in Italian, but also a small settlement in northwestern Italy surrounded by the beauties of the Alps.
When we look at the Pomellato Sabbia earrings, we are captivated by a nostalgia-marked feeling that can be transferred to the past, reminiscent of the craftsmanship of the masters and the love of a life.
This type of earrings hides the secret of our ancestors, who drew inspiration from the outside world, from its perception, let themselves be guided by mother nature.
HULCHI BELLUNI MAGRITTE
There is enough conventionality all around us. How about breaking away from it with an imaginatively crafted Hulchi Belluni Magritte ring? You will definitely not regret it.
Rose gold, semi-precious onyx, while its black color offers the desired and, last but not least, eye-catching contrast.
CHOPARD HAPPY HEARTS
Love is what moves humanity forward from its beginnings. Love is all around us, just realize it.
Choppard Happy Hearts is the embodiment of pure love, as well as passion, and pleasure. The heart lined with rose gold and filled with a tasteful onyxstone is complemented by a moving white diamond. Just the perfect experience.
PASQUALE BRUNI LOOK AT ME
Temptation. How many times in our lives we have to deal with it? And how many times we did not resist?
The Pasquale Bruni Look at Me necklace is already tempting in the title. And when you get a look at it, it will immediately win you over – with an idea, a style, a worldview.
The combination of rose gold, white and champagne diamonds is a clear temptation, but it is not a sin not to resist.
ALBERTI TALISMAN
Zodiac signs, but also favorite symbols. The 18-carat gold bracelets will be like talismans, which will emphasize your character and underline your strengths.
Talisman is something that protects us from snares. It is a companion on the path of life.
POMELLATO M´AMA NON M´AMA
Natural feminine beauty is enhanced by a live bracelet from the Pomellato company and it´s an excellent choice.
If you want to make your own style special, to get something that will emphasize your femininity and personality, Pomellato M´ama non m´ama is here for you.
Dreamy looks, fast heartbeat, blushing. These are all manifestations of love, Pomellato is love. At first glance.
POMELLATO SABBIA
Tactile, playful, yet elegant, Sabbia's pavé gem designs demonstrate the jewel-setting prowess of Pomellato artisans.
Pomellato plays with geometric contours in a new rectangular shape, to square up or to mix-and-match with Sabbia's iconic circle. In two new sizes, Sabbia's rectangle rings example Pomellato brilliance in a classic new geometry. 
PASQUALE BRUNI PETIT JOLI
This collection embodies the everlasting connection between nature and women. Flowers that take on the colors of the sky, space and earth, giving life to a bouquet of dreams. 
The Petit Joli collection is designed for women who are always looking for the ideal balance: sophisticated yet natural, determined yet spontaneous, dramatic yet serene, dreamers yet down-to-earth. Onyx represents the land and strength, the very intensity of being
POMELLATO CAPRI
Earrings. They emphasize the features of the face, complete femininity, and attract with their performance. And this is exactly the case with Pomellato Capri.
The prototype, where the dominant role is played by the black onyx still supported by the same colored diamonds and rose gold, points to the simplicity, precision and imaginativeness of the design.
CHOPARD HAPPY HEARTS
Choppar Happy Hearts once again.
Love is one of the strongest feelings and at the same time a driving force that helps to overcome anything.
The black heart-shaped onyx bordered by rose gold and complemented by moving diamonds is both an experience and a challenge. Just say yes.
HULCHI BELLUNI TOI & MOI
A jewellery brand that is inspired by three elements: the name of its creative brain Martine "HUL" the oriental philosophy of Feng Shui ("CHI" element) and the beautiful moon ("Bella Luna"), which is considered in many cultures to be a source of inspiration.
Start an intimate message through gold, diamonds and mother of pearl. Because this collection is about something more. It is about you and about me. It's TOI & MOI.