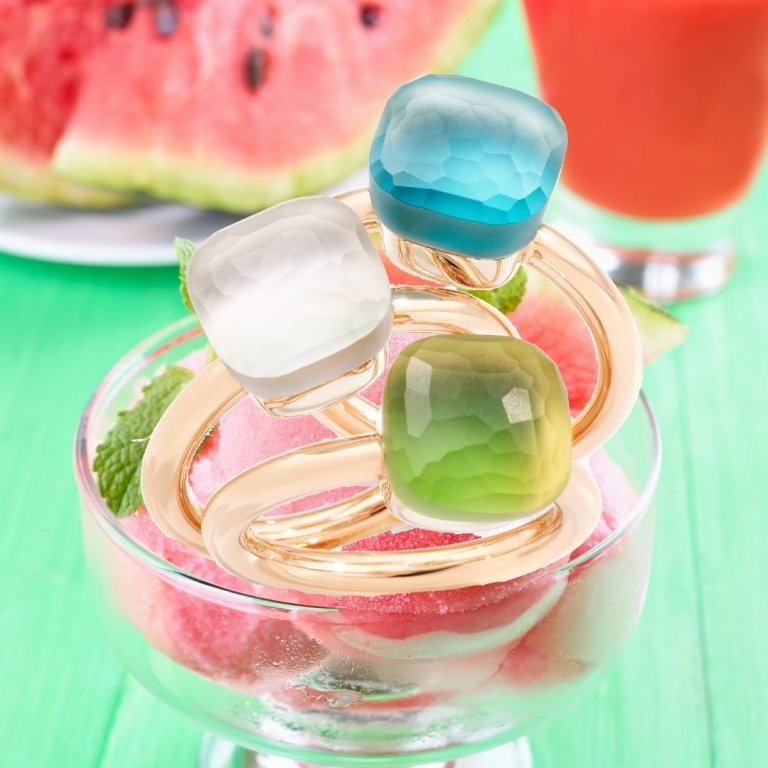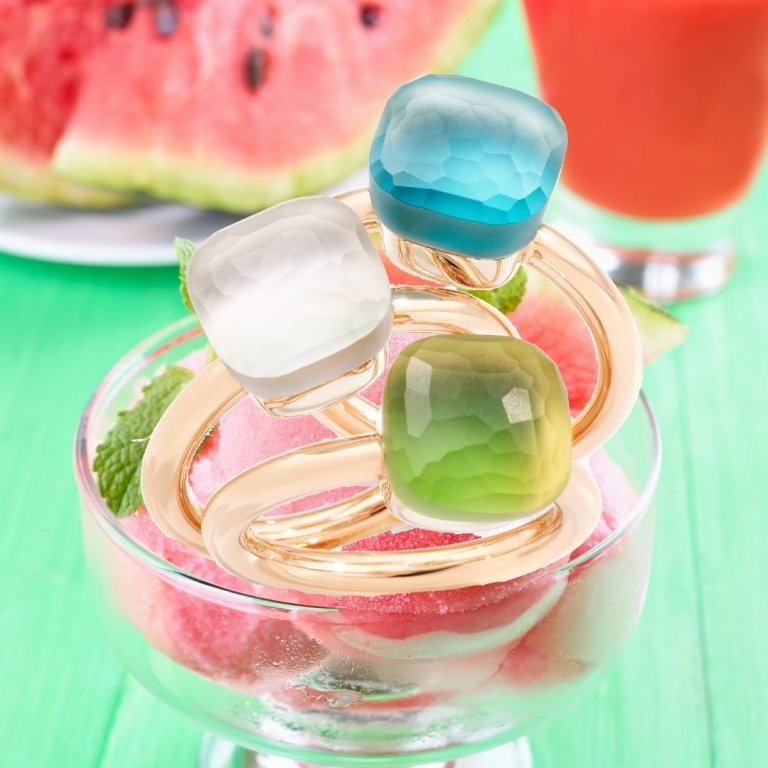 The Nudo Gelé reveals colour gemstones with a frosted look. Pomellato brings a refined new technique to the much loved nudo with the nudo gelé that now offers three more tempting colour gemstones with a frosted finish.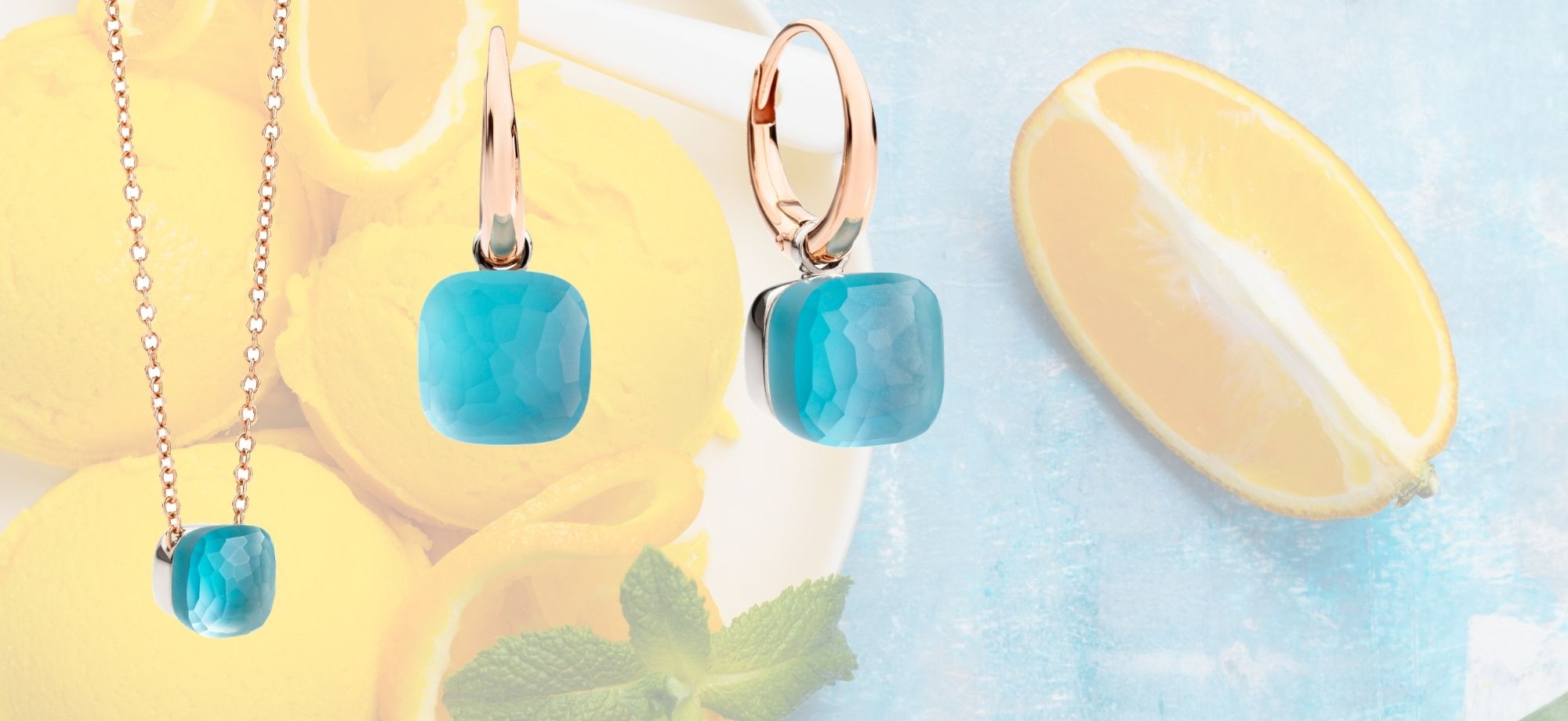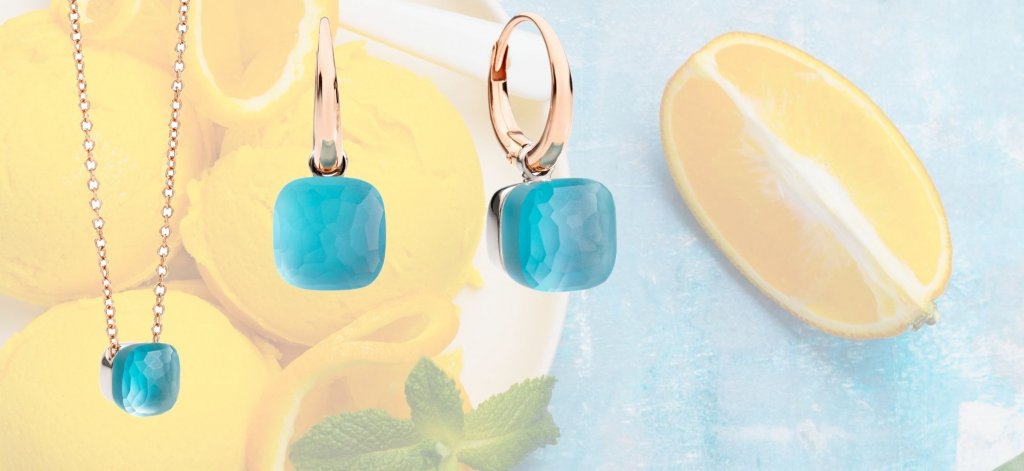 Pomellato is passionate about colour and this constant search for new hues is at the very heart of every Nudo jewel. In its ongoing quest to reveal the most mesmerising colours, Pomellato refreshes the iconic Nudo collection with three new gemstone shades created using a technique that is entirely new to the collection.
The Gelé finish is achieved by applying a satin-polish to the top of the softly faceted gemstones that not only creates the alluring frosted effect but also intensifies the colour of the gem. But there is more: despite its apparent simplicity, the Nudo Gelé is made up of double or even triple layers of different stones, with each layer seamlessly joined to create colours beyond Nature's palette.
A slice of chrysoprase set beneath lemon quartz adds vibrancy and intensity in the Gelé Nudo ring and earrings. Likewise, fine layers of turquoise and mother of pearl add a shimmering and vivid nuance to Sky Blue topaz, while perfectly transparent white topaz is enhanced with the creamy lustre of mother of pearl.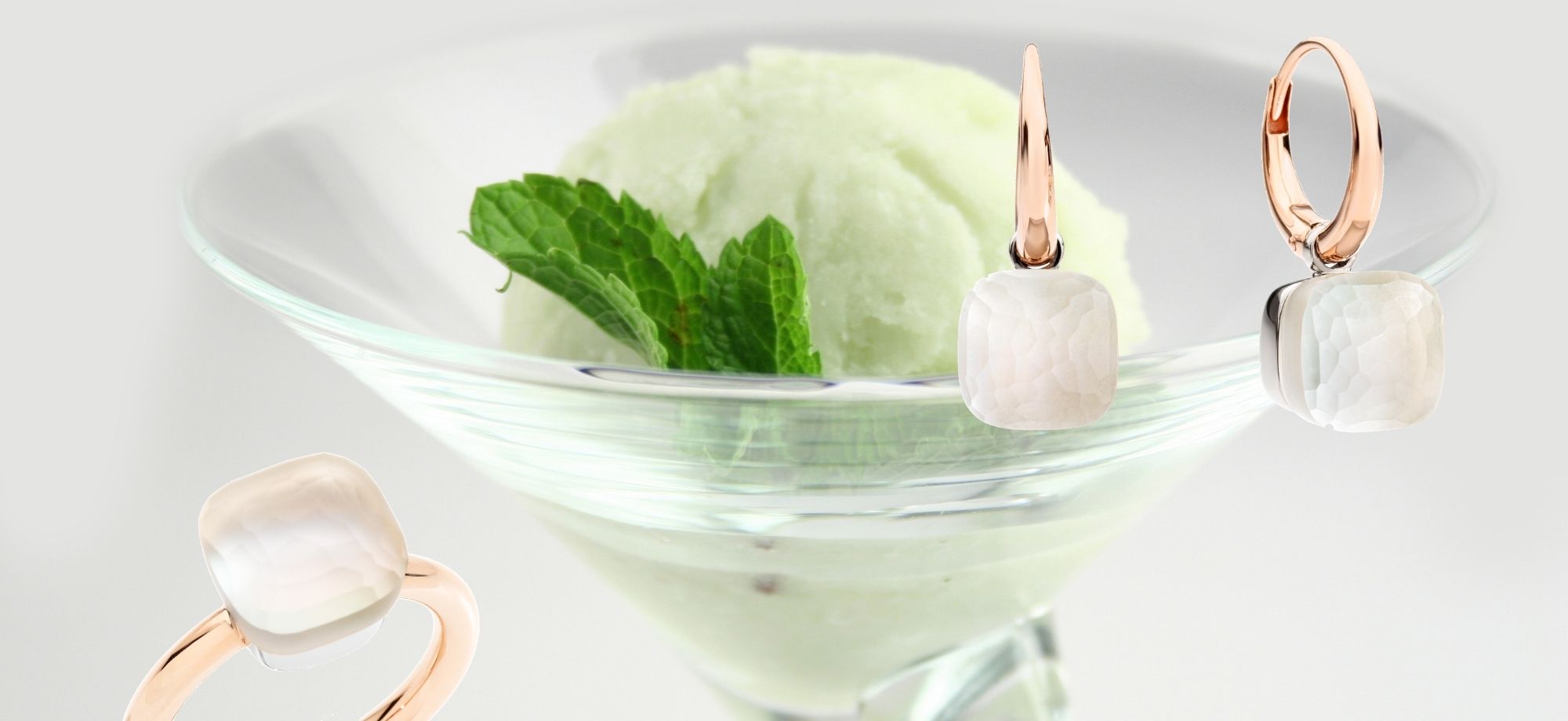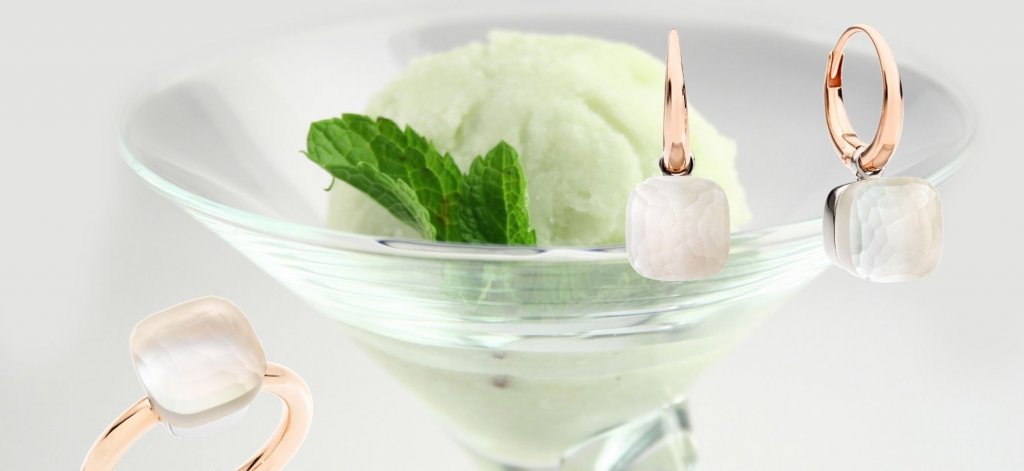 The Gelé arrives just in time for the summer as Pomellato has chosen the most popular Nudo colours to receive this glacial makeover. The Nudo Gelé rings, earrings and pendant are evocative of tempting sorbets in thirst-quenching hues. Deliciously tactile and almost good enough to eat, choose your flavour from Gelé's new zesty lemon, dusky cedar or herbal anisette offerings.
This pastel palette of hues would make a perfect summer trio – an exciting addition to existing collections or a simple statement worn on their own. Nudo Gelé also offers charming little matching earrings as well as a pendant in Sky Blue topaz with turquoise and mother of pearl.
What's more, each jewel is carefully crafted in Pomellato's in-house atelier by highly skilled artisans from 100% responsibly purchased gold as the Italian jeweller commits to a more eco-conscious future.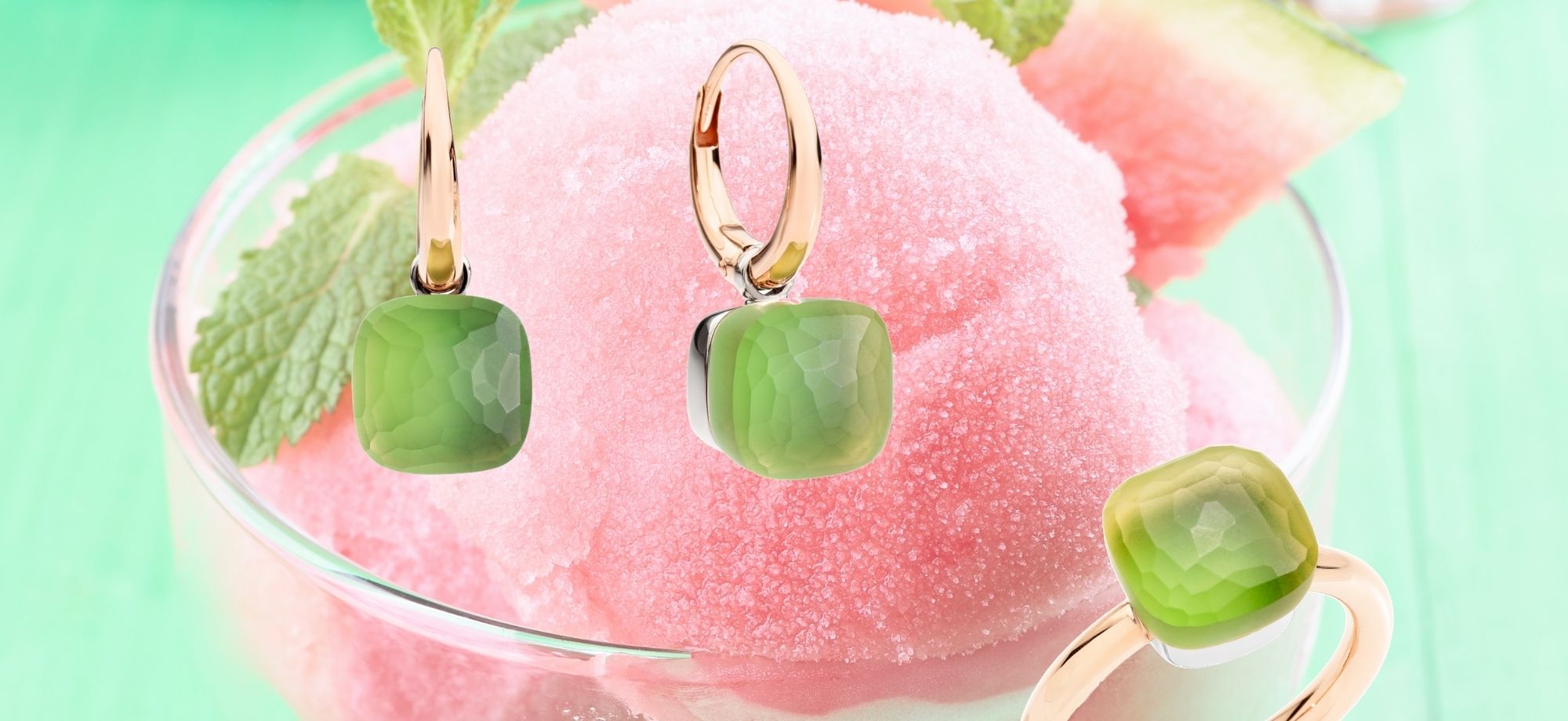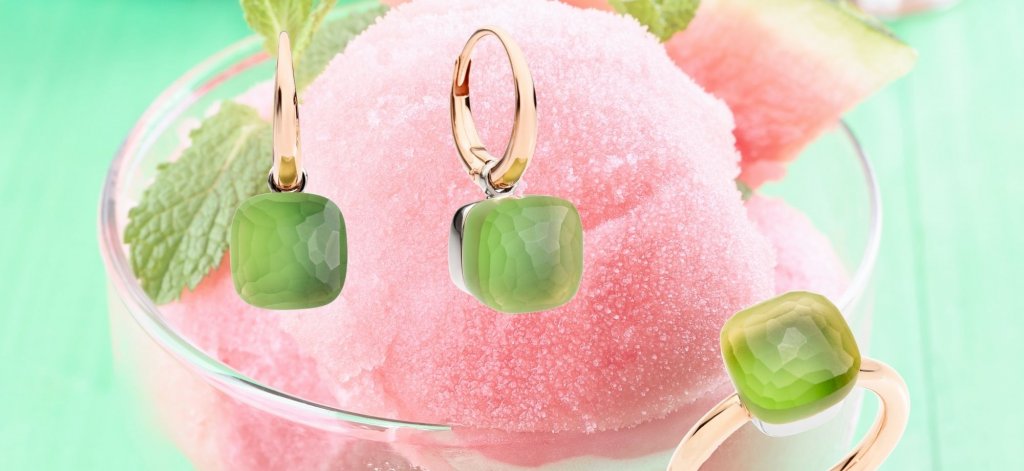 The Nudo is, unquestionably, Pomellato's most iconic jewel, with a dazzling rainbow array of colours that, for two decades, has gained a loyal following of women around the world.