NEW 2020: Watch Chopard Mille Miglia 2020 Race Edition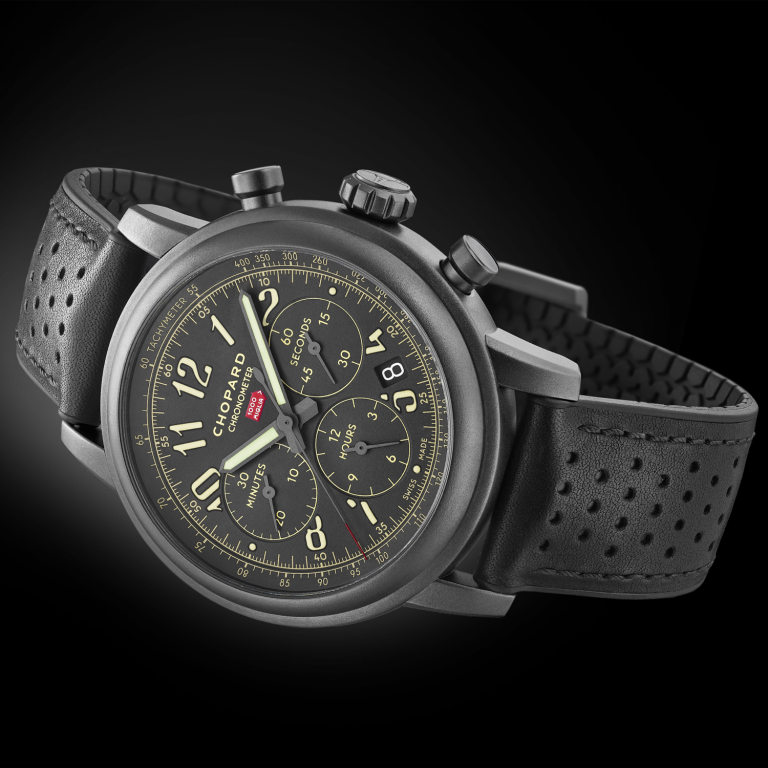 For the 32nd consecutive year, Chopard lined up at the start of this new edition of the 1000 Miglia rally as main partner and official timekeeper.
The Mille Miglia 2020 Race Edition
In accordance with its annual custom, Chopard is proud to present a new series of watches to mark the start of the race, commemorating this new edition of the 1000 Miglia.
The Mille Miglia 2020 Race Edition chronograph is available in a 250-piece limited edition with a 42 mm-diameter case in bead-blasted DLC stainless steel and ethical rose gold with black leather strap and dial; and in 1,000 pieces entirely in bead-blasted DLC stainless steel, each powered by a chronometer-certified mechanical movement with automatic winding.
Great passion
The 1000 Miglia rally is traditionally organised in May, the car race regarded as "the world's most beautiful" was held this year from October 22nd to 25th, in compliance with the prevailing public health regulations.
This calendar upheaval did not dampen the enthusiasm of the 400 crews who set out to conquer the 1,618 kilometres of the course – all under the protective, encouraging and watchful gaze of friend of the Maison, Jacky Ickx, who presided over the festivities organised by Chopard.
The evening before, during an intimate dinner at La Sosta in Brescia, "Mister Le Mans" unveiled the new timepieces from the Mille Miglia Collection created by the in-house Artisans in homage to the race.
The word's most beautiful race
Since 1988, Chopard has been the main partner and official timekeeper of the famous endurance 1000 Miglia race, a close collaboration born of the Scheufele family's longstanding passion for classic cars, which Karl-Friedrich Scheufele – Co-President of the Maison – both collects and drives, including at various motorsports events.
Founded in 1927, the 1000 Miglia is one of the most famous automobile events in the world. Originally, the 1,618 km route – the equivalent of 1,005 Roman miles – was a speed race that started and ended in Brescia, with a passage through Rome.
After its original formula was interrupted in 1957, the 1000 Miglia was relaunched in 1977 as an endurance race for cars built between 1927 and 1957, still covering 1,000 miles.
Over the years, the original route has undergone a few changes, but has remained faithful to the route designed 93 years ago by the original organisers, criss-crossing Italian scenery that has remained virtually unchanged since the beginning of the 20th century.