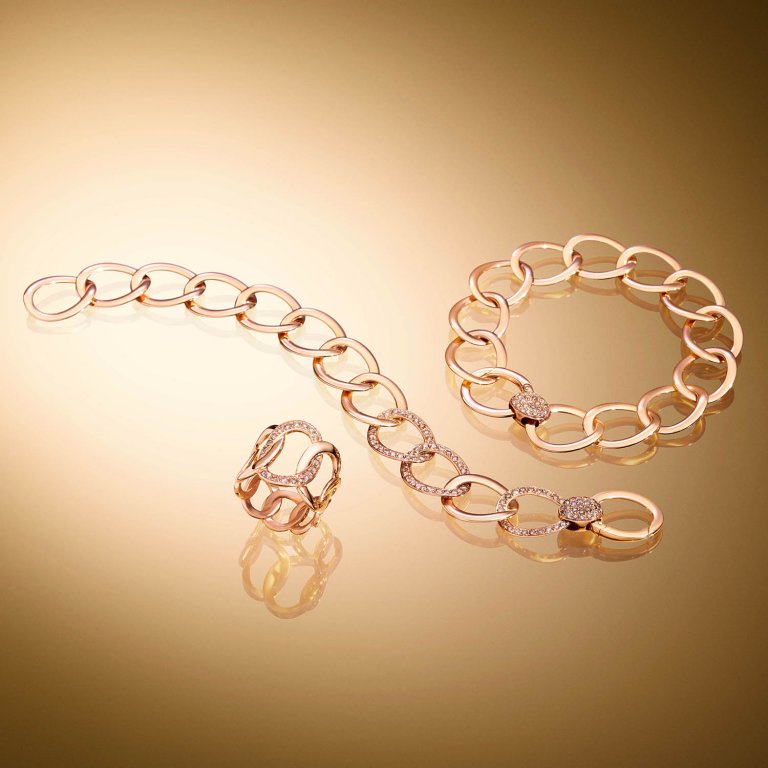 The radical sixties are famous for bringing about change, freedom and love. In 1967, Pino Rabolini, son to a goldsmith family, introduced his own revolutionary change to the world of jewelry. Innovating jewels with prêt-à-porter designs, his passion for chains became one of the hallmarks of the Pomellato brand.
Paying homage to its original Pomellato spirit, the Milanese Maison is proud to introduce Brera collection. Named for chic Brera district in Milan, this neighborhood is where founder Pino Rabolini first conceived of the idea for Pomellato, at the legendary Bar Jamaica. Twisting the notion of fine jewelry, Brera is the ultimate proof that chains may be reinvented with countless ways, widths, and inspirations.
Curved of artisanal goldsmithing techniques, Brera embodies the culmination of the chain's evolution: so weightless, so light, it feels like a second skin on the body.
Modern and sensual in their fine gold curves, light seems to shimmer through the range of BRERA chains. With ethereal designs and an inventive construction, BRERA's chain is so light, so wearable and delicate, it almost feels like one is wearing no jewel at all. Whisper-thin gold links slink with soft, touchable roundness, a quality singular to Pomellato design.
With infinite clasping loops, BRERA's necklaces, rings, bracelets and earrings seem to be in ceaseless motion as they turn, a sort of sensual optical illusion. Clinking with seductive musicality, BRERA jewels caress the skin lightly as a feather, their gold curves bending with tactile intimacy. As the climax to the story of Pomellato's devotion to chains, BRERA is its ultimate expression of its love.
This collection includes:
Necklace
The hero piece of the BRERA collection is a necklace to be worn in several different ways, per preference or mood. With a slider chain function, the necklace can be either a sautoir or a choker. When worn as a choker, the slider clasp becomes a designer detail on the back of the neck, while the chains dangle elegantly down the back or side.
Rings
The barely-there BRERA plain rose gold ring is striking in its design, yet so light, one may forget is wearing it. In either white or rose gold, the ring is highlighted by a pavé of diamonds.
Bracelets
Floating on the wrist, BRERA links appear to be infinite in their chain with the help of its discreet clasp. This savvy technical device features a decorative element with a precious diamonds pavé allowing it to be viewed or hidden.
Earrings
BRERA's iconic chain design can be worn as a stud, or as a 3-links mobile earring.
Pendants and thin bracelets
The seemingly weightless Brera design is timeless as in its number 8 design, encapsulating the infinity of the collection's curves.
You can see all the available products HERE or at our store at Panska 2.