New 2020: Chopard Happy Spirit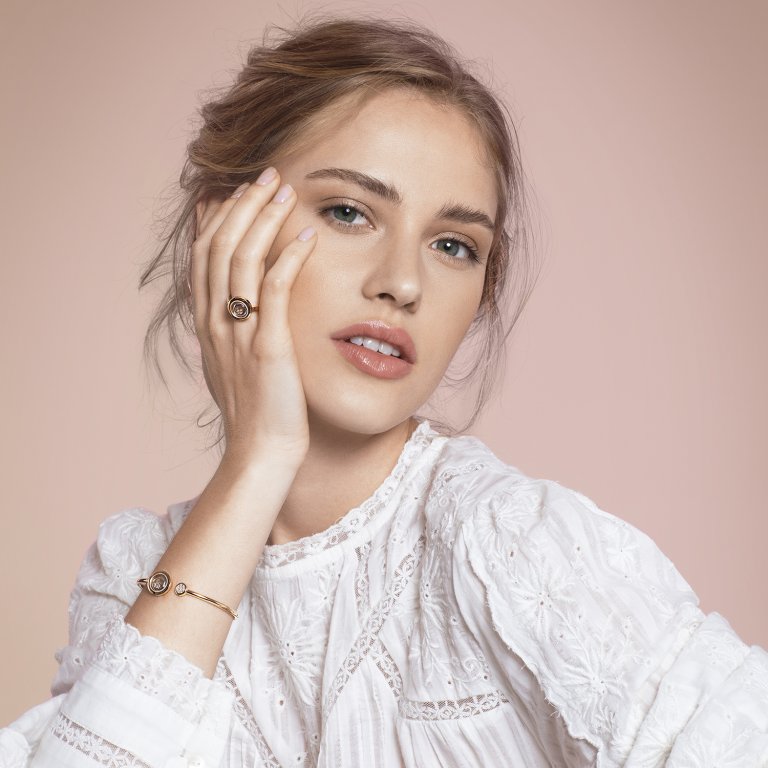 Mesmerizingly charming talismans. Happy Spirit jewellery is now reinvented through a new design that is sleeker, lighter and more luminous than ever. A jewellery collection imbued with multiple artistic sources, which it vividly embodies through its light effects and pure lines. Exuding the lightness of time and punctuated by the timeless beauty of the circle and dancing diamonds, Happy Spirit is available in a complete range of necklaces, pendants, rings, earrings and bangles in 18-carat gold and diamonds.
Childhood summed up in one smooth move: that of a pebble sent skimming across the water, where aquatic circles echo a playful impulse. A metaphor and a stylish reflection of this vibrant momentum, Happy Spirit captures the spirit of a mineral heart – that of a diamond – surrounded and further enhanced by concentric circles.
The enduring symbolism of the circle, mingling ethnological and cultural elements, stems from its aesthetic perfection exercising an undeniable fascination. Through a wonderful game of chance and kinetic energy, dancing diamonds perform a mesmerising choreography staging multiplied circles, the perennial and multicultural symbol of femininity, fertility and perpetual rebirth. Their incessant movement tells the story of a whirl of a joyful life in motion.
Depending on their size, one to three dancing diamonds rotate, protected by several nested circles. The collection also features ear studs and a pair of sleeper earrings as well as rings and bangles. Each model is made of 18-carat ethical gold – to which the Maison has been officially committed since July 2018 – available in two versions: diamond-set white gold or two-tone polished rose and white gold.
Discover all products of the Chopard Happy Diamonds collection HERE.