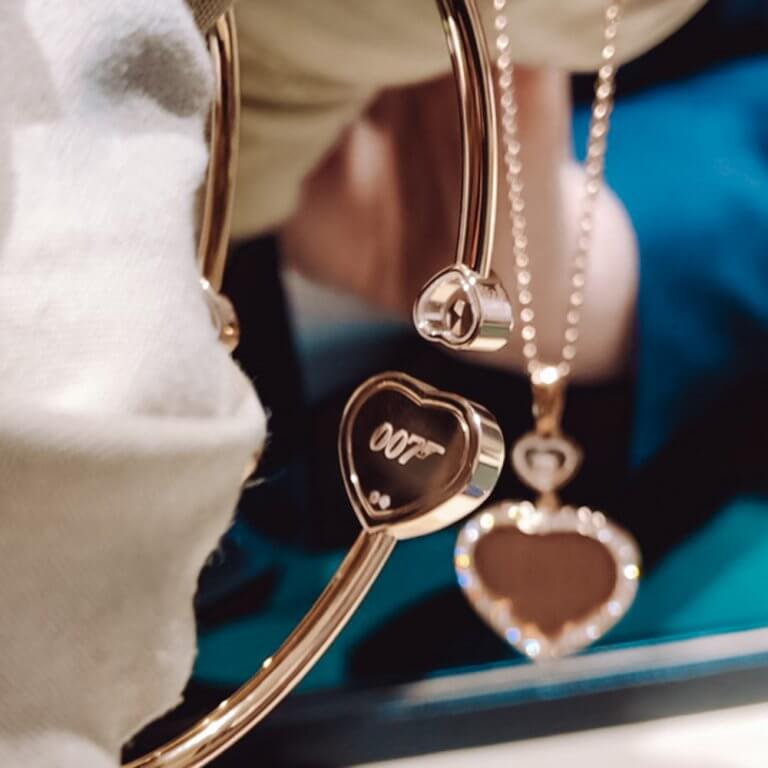 Fantastic, sensual, playful and (un) safe
James Bond is the world's most glamorous hero, as chopard is the world's most glamorous watchmaker and jeweller. Powerful match between the imaginary world conjured up by Chopard imagination and that the hero's cult films: fantastical, sensual, uncomplicated, humorous, showcasing the happy few…
The Maison Chopard announced that it will be an official partner of No Time To Die, the 25th James Bond film. Ana de Armas, who plays Paloma in the film, is to wear Haute Joaillerie models from Maison's Green Carpet Collection, crafted with respect for humankind and nature.
Inspired by James Bond's cult, Chopard presents these 7 High Jewelerry creations and a limited edition of 7007 Gold Hearts from their iconic Happy Hearts collection!
The heart – for which the French equivalent cœur comes from the Latin cor behind the word "courage" – is the emblem of the Maison and synonymous with bravery. Through this new jewellery line, which is inspired by the iconic Chopard Happy Hearts Collection, Co-President and Artistic Director Caroline Scheufele shares her vision of the James Bond Woman: a determined and courageous woman. She decided to reinterpret the Happy Hearts by filling the hearts with ethical rose gold as gold is a leitmotif embedded in the James Bond DNA, for example; Goldfinger  (1964), The Man With the Golden Gun (1974) and GoldenEye (1995).
The Happy Hearts – Golden Hearts Collection includes a bracelet, earrings, pendant and sautoir necklace, playfully alternating between a large golden heart with a smaller heart containing the famous dancing diamond, another signature of the Maison and a symbol of freedom and adventure. A second version offers the same design with the large heart delicately set with diamonds. As with all Chopard jewellery and watch creations since 2018, the gold used is ethical, making these talismans as beautiful inside as they are outside, while even more precious: ethical, light, supple and easy-to-wear.