BASELWORLD 2019: Chopard Happy Hearts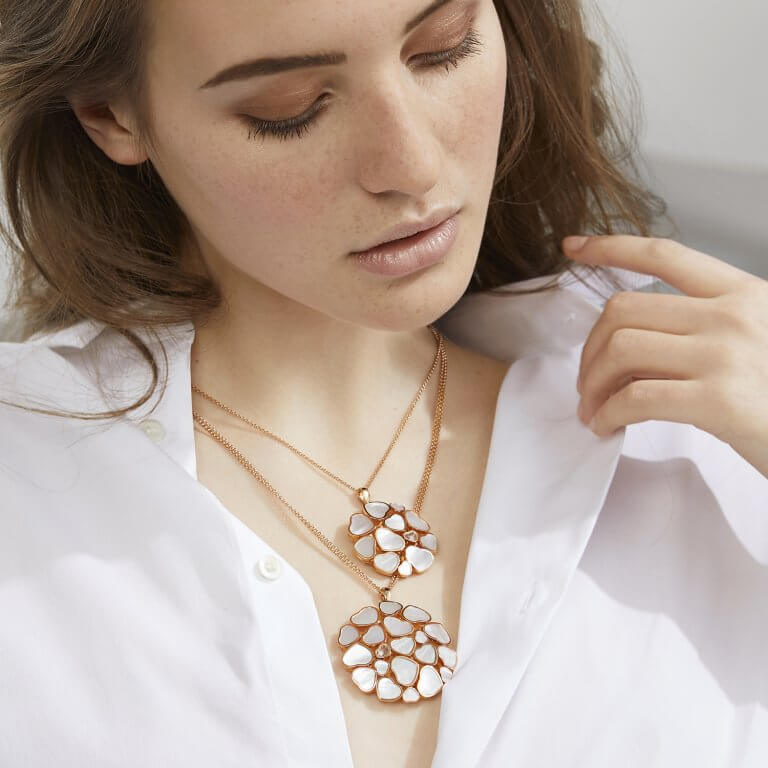 Tender and playful, mischievous and generous, iconic and so very joyful: the heart is the symbol of absolute vitality that pulsates within Chopard creations. With it, the Maison is enriching its iconic Happy Hearts collection with new cocktail pendants and original earrings in 18-carat rose gold and mother-of-pearl, onyx, diamonds, malachite and red stone. Colourful new talismans for the Big-Hearted women so deeply cherished by Chopard.
Within just a few years, the Happy Hearts collection has become a Chopard jewellery icon, distilling its aura through a series of talisman jewellery pieces sprinkled with coloured hearts and hearts carrying dancing diamonds. It now welcomes two new generously sized cocktail pendants in 18-carat rose or white gold, on which mother-of-pearl, malachite or diamond-pavé hearts of different sizes are gracefully assembled into a bouquet. Among them is the same signature symbol in a smaller size. Equipped with a diamond dancing between two sapphire crystals, this stands out as a signature of the Maison Chopard, which gave rise in 1976 to the original Happy Diamonds concept. Emblematic of Joie de Vivre, its infinite dance evokes the movements of every woman's heart, both in terms of their generosity and their most intimate emotions. This charming pendant comes in two sizes and is the ideal complement to a cocktail outfit as well as a casual chic daytime look.
Driven by the generous creativity of the Maison, the artisans of the Chopard workshops have also designed new 18-carat rose or white gold earrings with two hearts assembled in a graceful pas de deux. Gently resting against the earlobe, a first heart, with a playful dancing diamond whirling in its centre, echoes another larger heart positioned beneath the ear and set with diamonds, mother-of-pearl, onyx, malachite or red stone. The two hearts are ingeniously connected by a gold rod hidden behind the earlobe, giving the visual impression that the lower heart is flying under the ear. And because Chopard likes to give women the opportunity to play with their jewellery, the small dancing diamond heart can also be worn alone as a stud earring. These two-in-one new earrings sum up the spirit of the collection: precious yet light, versatile yet faithful to its style, colourful yet also discreet.