Baselworld 2019: Chopard Happy Hearts Wings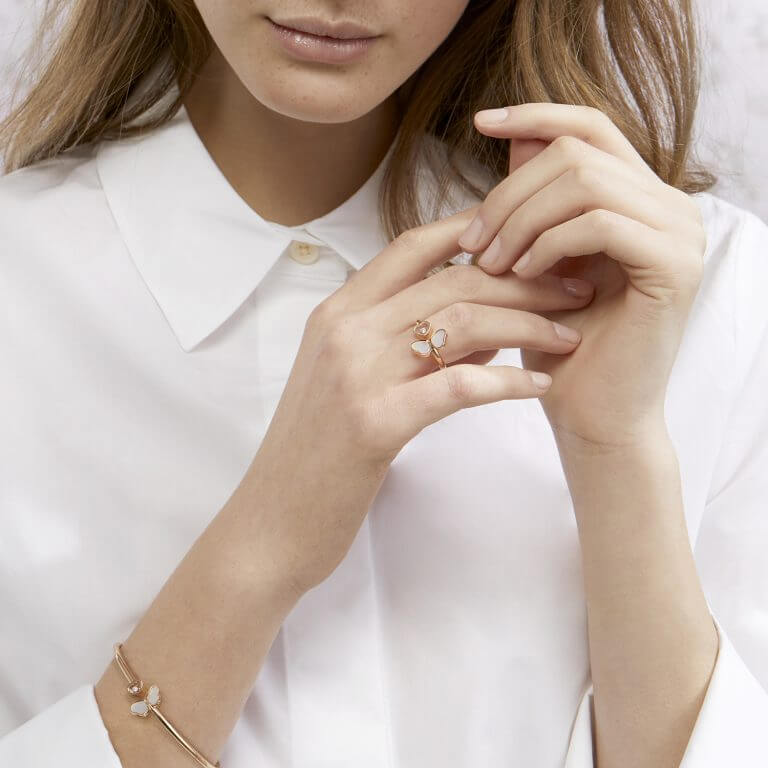 The delicacy of fluttering butterfly wings, the strength of a breath of life. In the beginning were dancing diamonds, spinning inside a heart caught up in an endlessly graceful waltz. Through the motion inspired by the women who wear them, they transform the world. More than a motto, "Little Diamonds Do Great Things" is a way of life for the Happy Hearts collection – the beating heart of Chopard – which now welcomes a new collection featuring the butterfly: Happy Hearts Wings. A free and daintily airy spirit appearing in a complete set comprising exquisite necklaces, bracelets, earrings and an 18-carat rose gold and mother-of-pearl ring.
The scrolling patterns of its wings trace a heart in the air. The butterfly, the ultimate emblem of lightness and transformation, has infused all its delicacy and symbolic strength into Happy Hearts Wings. It finds exquisitely refined expression in this new interpretation of the Happy Hearts collection, echoing the symbols of the Maison Chopard. Two mother-of-pearl hearts, arranged like butterfly wings, are suspended from a heart with a dancing diamond nestling inside. The perfect balance of this jewellery creation is a whispered flutter of imagination unfurled, a talisman motif interpreted as a complete 18-carat rose gold set.
What feats do the fluttering of wings convey? Within the infinitely small lies the potential for infinite greatness. Such is the butterfly effect: "Little Diamonds Do Great Things". At Chopard, Joie de Vivre is a founding principle, a creative élan, a shared momentum. At the heart of each and every daily gesture, this movement pulsates and brings life to the ever-renewed ballet of dancing diamonds, constantly reinvented by women, just as they reinvent themselves. It symbolises the tremendous vitality and infinite power harboured by those who unstintingly give of themselves – the Big-Hearted women so cherished by Chopard. This delicate yet potent driving force takes flight at the heart of Happy Hearts Wings, then spreads its wings and unfurls around the world. A special gesture, a generous token of caring or a radiant smile lights up the entire universe.