When millimetres make a difference…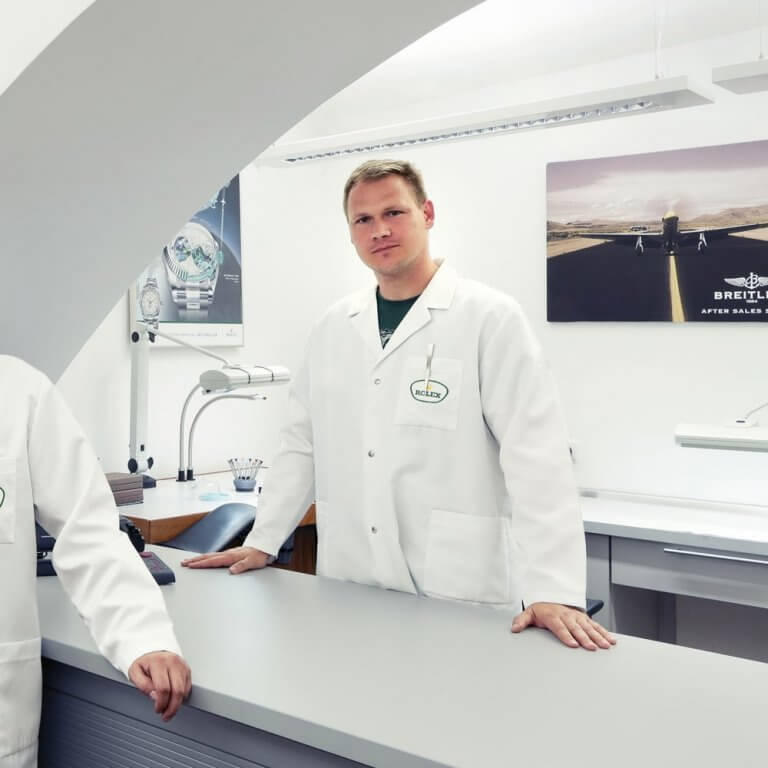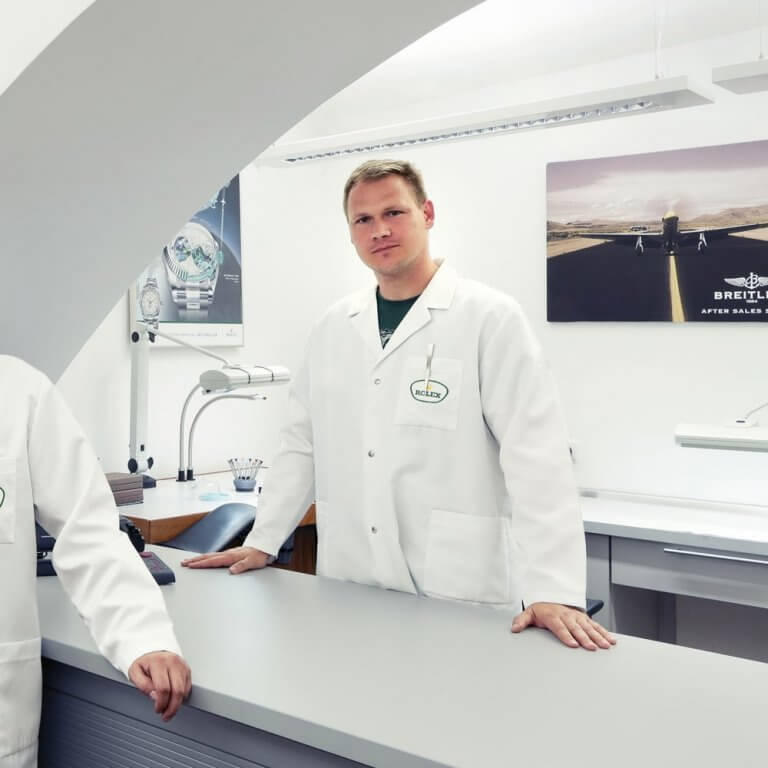 A reliable professional, which is human and accurate to the second in all circumstances. After all, he works with watches on a daily basis. Peter Foltýn is the face of the Sheron jewellery's service operation, an expert always in a good mood able to handle every customer question, finding a solution to every problem.
He has been with Sheron since 2004, that is for 17 years. Seventeen years of regular eye strain, attention and skills honing, at the end of which is customer satisfaction.
Peter joined the company as a trained watchmaker, driven by the desire to work with the best watch brands, to permanently get behind the scenes of brands like Rolex or Breitling, to establish himself among the absolute top in the industry. As he says himself, "I have always been a watchmaker, it is my passion", and that's really saying it all. But, of course, this is not where the story ends. It is rather the opposite, it begins a captivating narrative of a man who knows exactly "what" and exactly knows "how".
"After joining Sheron, it was necessary not only to establish a service operation that would be available to customers, but also to equip it to meet the highest standards set by Rolex, which is the highest possible level in this respect," recalls Petr Foltýn, who has undergone four professional Rolex training courses in the past, the same number for Breitling, then Omega.
And all that in the name of improving services. Gradually, therefore, the official Slovak retailer of renowned brands started the relevant processes (purchase of high-end equipment, overall modernization of the technologies used, preparation of the service for certification, etc.), which marked a significant milestone in the history of the jewellery. The introduction of a certified service operation has brought Sheron to a level where it can satisfy even those most demanding clients, where it can match similar operations around the world.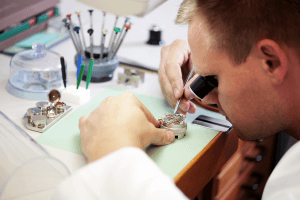 In Slovakia, we have started to learn about technologies that have moved the world
"The first I visited the Rolex headquarters and workshop, I felt like Charlie in the Chocolate Factory," the watch maintenance expert reflects on the past. "Back in 2005, the Swiss were already testing unique prototypes of machines for cleaning and polishing watches, measuring accuracy. There I gained so much inspiration, picked up so many stimulating ideas, which were right at the birth of our service operation."
"As a person from Central Europe, I has no chance to get access to such timeless technologies, to the real best equipment ever. The Swiss were miles away from us. From the first moment at Rolex, I learned so much because I was learning from the best of the best, moreover, plus I was overwhelmed by the passion and determination to have a top level in Slovakia as well. I dare say that with the help of the owners of Sheron, it has been achieved."
"During my first training in Rolex, I was astonished by what is possible in the world of servicing, the approach of the masters inspired me perfectly. The funny thing was that at first I was trained together with thirty Germans who mistook Slovakia for Slovenia and didn't believe that Bratislava was actually a short distance from Vienna. There was even a question whether I wouldn't if my Czech colleagues also attended the training, because the question on the table was whether both countries were fine after the division of Czechoslovakia – in the sense of whether Slovaks could bear Czechs and vice versa."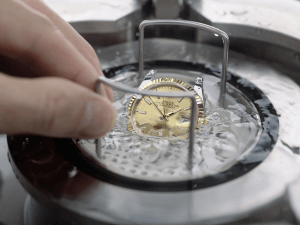 Petr Foltýn further reveals that Rolex has always been offering proprietary components, which it even manufactures itself. "They have dozens of experts in production for a specific thing. The workload at this level is really enormous. But the highest quality is note achieved alone," he adds with a smile. The individual components from the world's leading watchmaker are given unbelievable support, after all, some on them can be accessed even 35 years after production, which perfectly illustrates their timelessness and quality.
The service operation had to be built completely from scratch
As the time passed, Sheron began to place more and more emphasis on the service itself. Because buying a luxury watch is not a terminal station when it comes to the company-client relationship for the jeweller from the Slovak capital. The certified Rolex service operation was joined by the one of Breitling – a brand that is particularly popular in aviation and has been on the market for 137 years, during which time it has moved from pocket watches to the production of exceptional chronographs.
"Breitling has a strong story behind it that is easy to believe. From the beginning, it has been a company that likes to experiment, which has resulted in some revolutionary ideas focused on aviation, where cutting-edge technologies reflecting the era have been used for decades," he explains. However, aviation was not the only focus. Another, no less important was diving. 1957 brought the groundbreaking SuperOcean, causing unprecedented popularity. What's more, the company launched a model with a water resistance of up to 200 metres, which at one point took the competition's breath away.
"We have a lot of customers interested just in watches with the Breitling name. Clients are well aware that behind the captivating story lies endless courage, experience and the skills of specific craftsmen confirmed by years of practice," Foltýn thinks.

Quality always comes first
"In many cases, clients demand not only high-quality work, but also fast work. In practice, this simply means not only the repair itself, but also common service tasks such as disassembling the watch, finding the problem, cleaning it, replacing damaged or worn parts, a providing a warranty. Thus, a truly complete customer service," says the renowned serviceman.
"However, it is important to remember that although the work is now partly automated, as a watchmaker, after years of experience, I have gained knowledge and skills that I can put to immediate use. What is a seemingly simple task for the client can last at least 14 days due to repeated checks. On the other hand, we guarantee the highest possible quality. We cannot afford not to do our job one hundred percent – because of our approach to work, our professionalism and, last but not least, because of our customers, who need to know that they can rely on Sheron," he adds.
We also learn that 15 years ago Rolex had a calibre (3135) that is still in use today. But in response to the current times comes a new series – the 3235 meeting the highest possible requirements for accuracy, power reserve and it is already clear that it will be the new flagship of the successful brand.
"It is very positive that the Rolex headquarters responds to suggestions from us servicemen, reflecting on the issues we encounter on a regular basis. One might think that such a large company would draw a strict line and "go its own way". However, I know from experience that the opinions of us – the people who do the servicing, do eventually make their way into practice in some form," he says.

The demanding work of a watchmaker. 10 out of 10
Many people don't realize it, but spending hours a day looking at millimetre-sized components puts strain on the eyes as well as on the body itself. Being in one position for long periods of time, because focusing on the result is the alpha and omega, repeating and precision-intensive tasks is, although it may not seem so at first glance, physically and mentally very demanding.
"It is. If on a scale of 1 to 10 I had to express the strenuousness of my work, I choose ten. Because I know exactly what I'm talking about. The eyes get the biggest strain. When I go home after work, I often find that lights and colours are blurry. I need to "switch off", to let my eyes and body relax, and so I am happy when I'm busy improving my house. I recently built a swimming pool, and a gym before that. I need a completely different type of relaxation. I can't imagine sitting down in front of the TV after work or when I have free time. Pool, swimming, gym. Projects that improve my home not only make me happy, but are also a desirable mental rest for my heavily strined eyes, body and mind," says Peter Foltýn about his private life.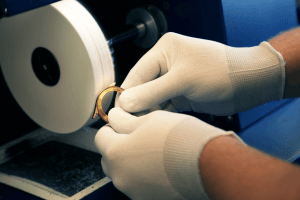 There are many types of clients. They also have strange requirements
Peter, who is positive in nature, also encounters funny situations from time to time when it comes to client service. "Sometimes I have wants a battery replaced in their watch, yet the watch has automatic winding."
"Probably the most interesting experience was meeting a client from Bratislava. He was a nice gentleman who had found a watch somewhere at his grandfather's house that he thought was valuable, so he came to ask about its authenticity. It was wort it, today it would be worth an estimated 100 thousand euros."
"The owner of the watch, who received it as a gift from his father, also attracted my attention. He found the inscription Precizion in Arabic interesting, and I eventually learned that his father had worked as a builder in the Middle East in the 1950s and had received the model as a thank you from a local sheikh. You can imagine how surprised the son was when he discovered he had a really valuable piece in his hands."
"But there are also people who buy a nice-looking imitation designer watch for 50 euros on holiday somewhere in Egypt and come to ask if it is genuine. Why would anyone sell a model worth several thousands for 50 euros?"
Over the many years of experience, countless watch models have passed through Peter's hands, so it's definitely worth finding out which are his favourite. "We tend to talk about Rolex and Breitling, but right away I would choose the Pelagos LHD from Tudor. The reason is that my son, to whom I gave it, is left-handed, and it is very nice that watchmakers focus on this large group of people as well. It is also lightweight, comfortable to wear, and since it is made of titanium not steel, it doesn't feel so cold on your hand. I was also convinced by the fact that it has the date on it, which is an important functionality for me. For the same reason, I also like the Rolex Sky-Dweller, where the date is so ingeniously placed, it does not disturb the owner at all," he says at the end of our pleasant conversation.